Addtime:2021-10-25 Hits:4615
YXAAHC-A3 series Arc Height Controller for AC TIG Welding Process

◆ Brief Introduction

In many welding applications (such as TIG welding corrugated board), as the uneven surface, if the automatic welding equipment can not follow the surface change of workpiece in time, it will reduce the welding precision. In order to solve this problem better, and greatly improve the welding quality and welding efficiency, Nanjing YUANXIN Automation Technology Co., Ltd. has developed YXAAHC series of automatic Arc Height Controller. This system detects welding arc directly by the welding arc sensor to judge the surface changes of welding workpiece, meanwhile sends the changing signals to controller. Controller drives the slide by motor to control the welding torch to move up and down quickly and accurately, and thus it achieves automatic arc height control, effectively solves the problems brought about by the surface changes of workpiece, greatly reduces the labor intensity of welders and the effect of man-made factors, ensures the welding quality and welding efficiency.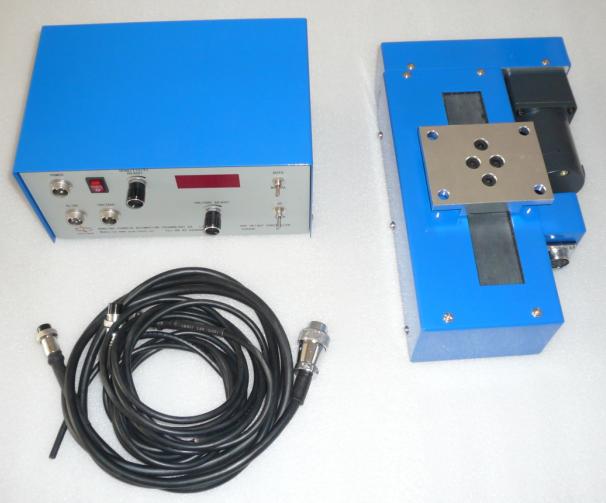 Standard Configuration
Panel of Controller
◆ Main Functions and Features

●

Dustproof design effectively prevents welding spatter and dust into the slide, and thus enhances
product reliability and extends service life.
●

The welding voltage is sampled directly from the positive and negative on the welding power source,
or from torch and workpiece, dont need wiring from the welding power source internal, it is easy to
install, non-professionals can easily complete the installation.
●
Manual / Automatic Dual-mode Control, digital display, program control, intuitive and easy to operate.
●
Wide input power supply voltage range is suitable for using around the world.
●
Delayed tracking function to make sure a smooth transition from starting-up of the arc to the tracking.
●
Digital display, convenience and visualized to use.
●
Used for AC TIG Welding Process.
◆ Technical Parameters

Model

Technical Data

YXAAHC-100A3

YXAAHC-150A3

Rated Load

25Kg

25Kg

Slide Stroke

100mm

150mm

Maximum Lifting Speed

600mm/min

600mm/min

Tracking Voltage Range

8-25V

Tracking Sensitivity Adjustable Range

0.1-5.0

Welding Arc-start Delay

1s

The Welding Methods to Be Applied

AC TIG

Drive Structure

Motor + Guide + Screw

Input Power Supply

AC100-240V Single-phase, 50/60Hz, 2A

Standard Configuration

Controller, Slide, Connecting Cables.
In addition, our company can also supply special Arc Height Controller in accordance with the needs of users.